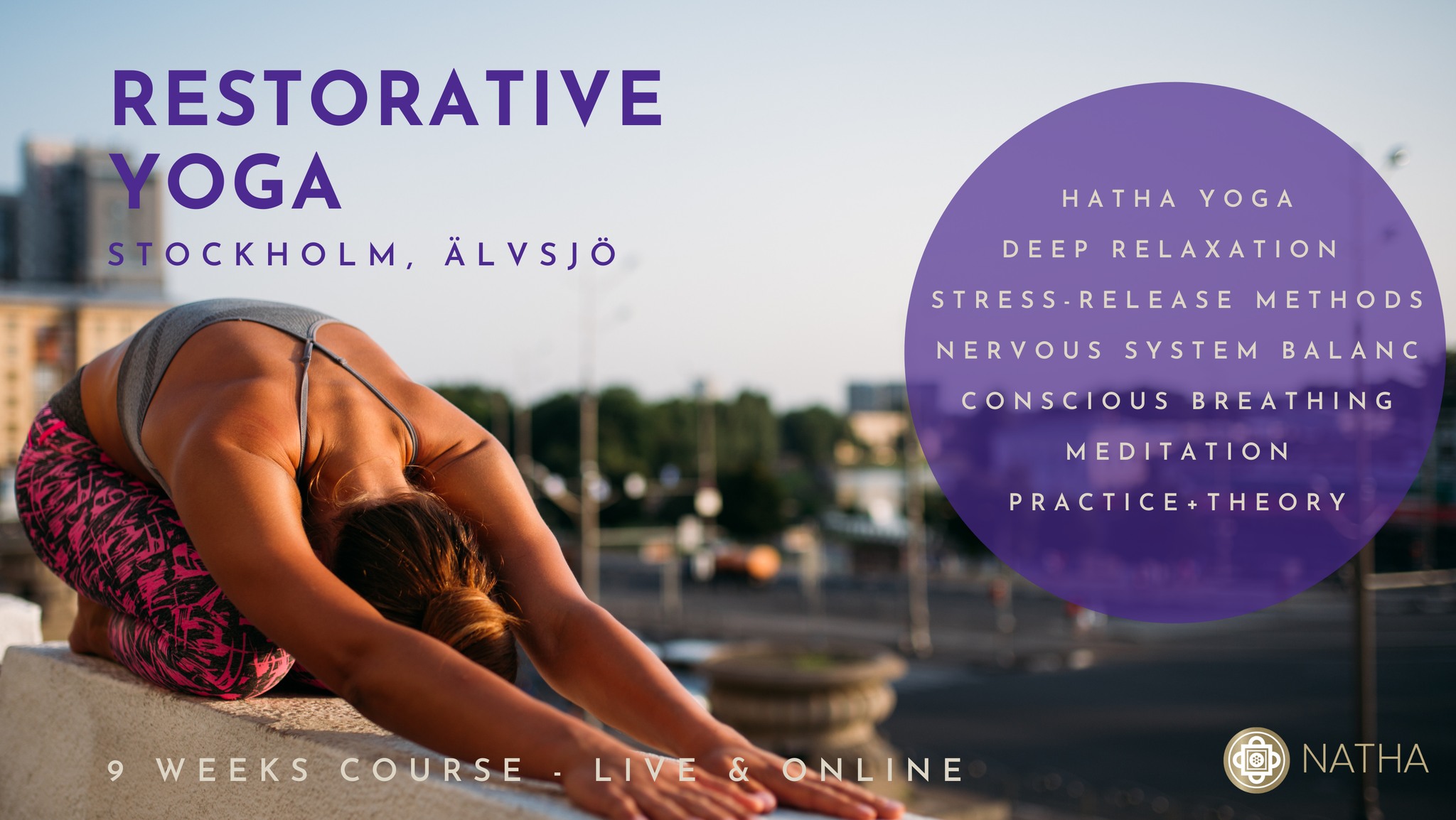 Restorative Yoga
9 weeks course – Live & Online
Älvsjö Stockholm
Mondays 17.45-19.45
Start 21 february
Make this year a year of being a more relaxed and joyful you. 😊
A year where you learn to meet everyday life challenges with more ease, presence, flow and aliveness.
That requires relaxation.
We know that it is not always the easiest thing, being relaxed in a world full of great challenges, sudden changes, demanding to-do-lists, expectations, noises and endless mental agitations. Most of us get so taken by the storms of life that we forget the innocence of being, not making enough space for joy, pleasure and presence because tensions build up faster than our ability to reset and unwind.
It doesn't need to be that way.
Yoga has become increasingly more popular for teaching us harmony in living. Because it works.
During this 10 weeks course you will learn:
– Restorative hatha yoga practices
– The art of relaxation
– Science backed stress reduction methods
– Simple tools for creating balance of hormonal and nervous system
– Conscious breathing
– Yogic wisdom for balancing activity & rest – awareness & relaxation
– How to awaken mental clarity and calm down an agitated mind
– How to become more present in your body
– The healing power of silence
– Making relaxation an active choice in everyday life
The course includes:
– Weekly restorative hatha yoga practice
– Meditation exercises
– Yoga nidra & deep relaxation
– Simple exercises for rebalancing the nervous system
– Homework
– Tools for bringing the practice from the mat to the daily life
– Inspiring lectures based on yogic wisdom and up-to-date science
Even the most tensed body can learn to relax.
Even the most agitated mind can learn to let go and find peace.
Even the most nervous heart can find stability, play, openness and a sense of meaning – despite outer conditions.
It is not a one-time-fix, but an ongoing journey of self-understanding, compassion and deeper awareness.
"Tension is who you think you should be, relaxation is who you are."
::::::::::::::::::::::::::::::::::::::::::::::
–Practical & Sign up–
Price: 1500kr
Only online price: 1300kr
SIGN UP WITH A FRIEND – and get 300 kr. discount each of you
(Students with CSN + active Natha members receive 300kr discount)
Swish: 1233397171
Bankgiro: 785-7162
Mark your payment with "Yoga22" To reserve a spot please pay the sign up fee of 650 kr (the rest is to be paid before the course begins)
We have limited amount of space in person at the yogacenter.
No refunds are given.
Venue:
Natha Yoga Center
Narcissvägen 12 Älvsjö, Stockholm
(few minutes walk from Fruängen tunnelbana statio)
–Covid 19-policy–
If you are having flulike symptoms we kindly ask you to stay home and you are most welcome to participate online 😊
In case there would appear laws that prevent us from meeting the classes will continue online until conditions change.
Meet your teacher:
Louise has been practicing yoga and tantra for over 20 years.
Inspiring and helping people to live happier and more harmonious and fulfilled lives has been her passion since early age. Louise is a certified yoga, meditation and tantra-teacher with more than 13 years of intensive teaching experience. She has been teaching in yoga schools and companies around Scandinavia and has recently joined our teacher team here in Natha Stockholm. She is known for her big smile and warm heart and devotion to personal practice. She is continuously walking the path of self-study and spiritual transformation, since she believes that to be a good teacher you yourself must be a devoted student.