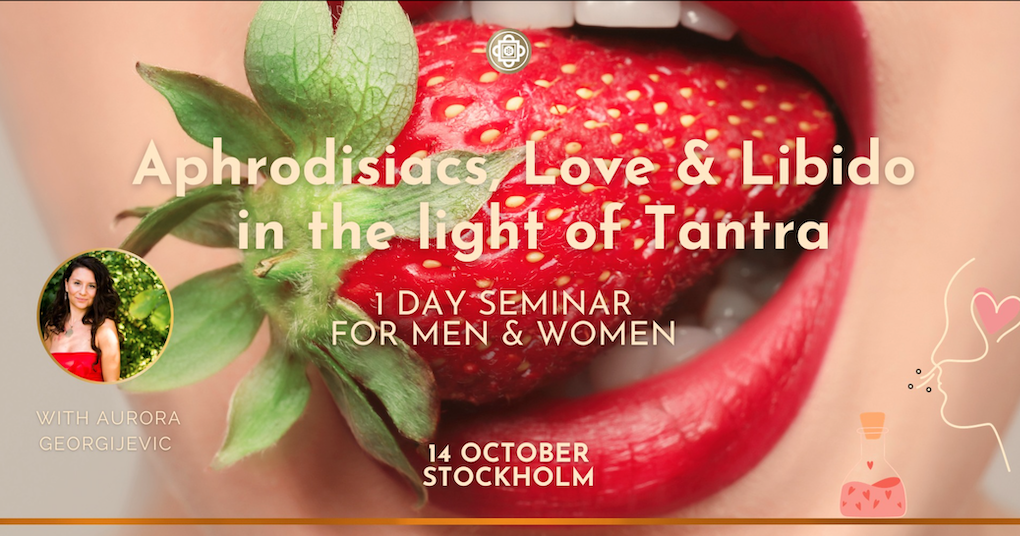 Aphrodisiacs, Love & Libido
– in the light of Tantra
Aphrodisiacs,
Few things make us feel so alive as when feeling vibrant with erotic vigor, passion and love.
Our libido reflect our aliveness in life in general, which is why it has been such an important topic in tantra.
Stress, diet, hormonal imbalance, lack of sleep, illness, transitions that occur through aging, relationship problems or various psychic or physical challenges all contribute to affect the level of our libido, and thus also our enthusiasm and openness for life
A healthy libido and erotic vitality brings joy, happiness, health, sensitivity in our life. It makes us open and ready for intimacy and togetherness, breaking down the walls of separation. It enhances the power of attraction in a couple relationship. It inspires us in projects that we do, infusing us with creative power, inspiration and flexibility. Eroticism brings us into an intimate communion with life
But what to do when we don't feel all of this?
Since thousands of years, in every culture on earth there has existed both common and secret pracitises for naturally enhancing the libido, especially through aphrodisiacs.
Did you know there exists wonderful herbs that can awaken erotic energy and make your lovelife more juicy? There are amazing secret treasures in nature that can help to:
– naturally boost libido
– give increased sensitivity to sensual sensations
– remove impotens and give long-lasting erections
– increase the vaginal secretions and bringing health to women's intimate areas
– increased power to rise and recirculate sensual energy
– enhance the orgasmic capacity
– increase intimacy in the couple by harmonizing ones erotic energies
In this workshop, we will learn:
– The importance of cultivating erotic vigor and stamina for a happy life
– The difference between sexual energy & erotic energy as taught in Tantra
– Learning the mechanisms for cultivating a healthy libido
– How to amplify ones sensuality outside of the bedroom (for both men and women)
– What are aphrodisiacs
– How aphrodisiacs increase sensuality, erotic power and appetite for life
– All the other amazing effects of aphrodisiacs people oftentimes are not aware of (such as increasing self-confidence, masculinity/femininity, cultivating inner harmony, joy of life, and many more)
– Aphrodisiacs and their effects at the psychological and mental levels
– Aphrodisiacs specifically for men or women
– Aphrodisiacs and the senses
– Aphrodisiacs and the way to happiness, ecstasy and spiritual awakening
Program:
The seminar will consist of inspiring, practical and deeply useful and lifechaning presentations but also a journey of exploring and tasting various aphrodisiacs and other exercises.
Suitable for individuals and couples, and no background knowledge required.
There will not be any explicit erotic exercises in the workshop
Time & Date:
Saturday 14 october
13.00-18.00 (incl tea break)
Price:
750 kr
550 kr for Natha members and regular students (with CSN card)
Special offer: Come 2 and pay 650kr/person!
Pay by:
Swish: 1233397171
BG: 785-7162
Cash: prepaid in the reception
Refund policy:
Until the 1st of October you may recive a refund of 90% of the fee, after that we cannot offer any refund no matter the reason. You are however welcome to offer your ticket to someone else.
We look forward for a beautiful and inspiring day together!
About the teacher:
Aurora Georgijevic is a highly experienced and deeply appreciated tantra teacher that has been teaching for over 17 years and practicing for nearly 20 years. She is a passionate advocate of intimacy, love and sensual awakening as a way for healing our planet. She teaches with both playfulness and humor but also with maturity coming from solid practical experiences and in-depth knowledge. Over many years she has been thoroughly applying tantric teachings, scientific discoveries and herbal wisdom for awakening libido and guided many people from allover the world to rediscover the great potential of their erotic energy
Note: Our workshops, classes and retreats always offer in-depth knowledge of the ancient science of Yoga and Tantra as well as the modern scientific viewpoint on the subject, getting to practice with interesting, interactive exercises and learning methods to use at home.