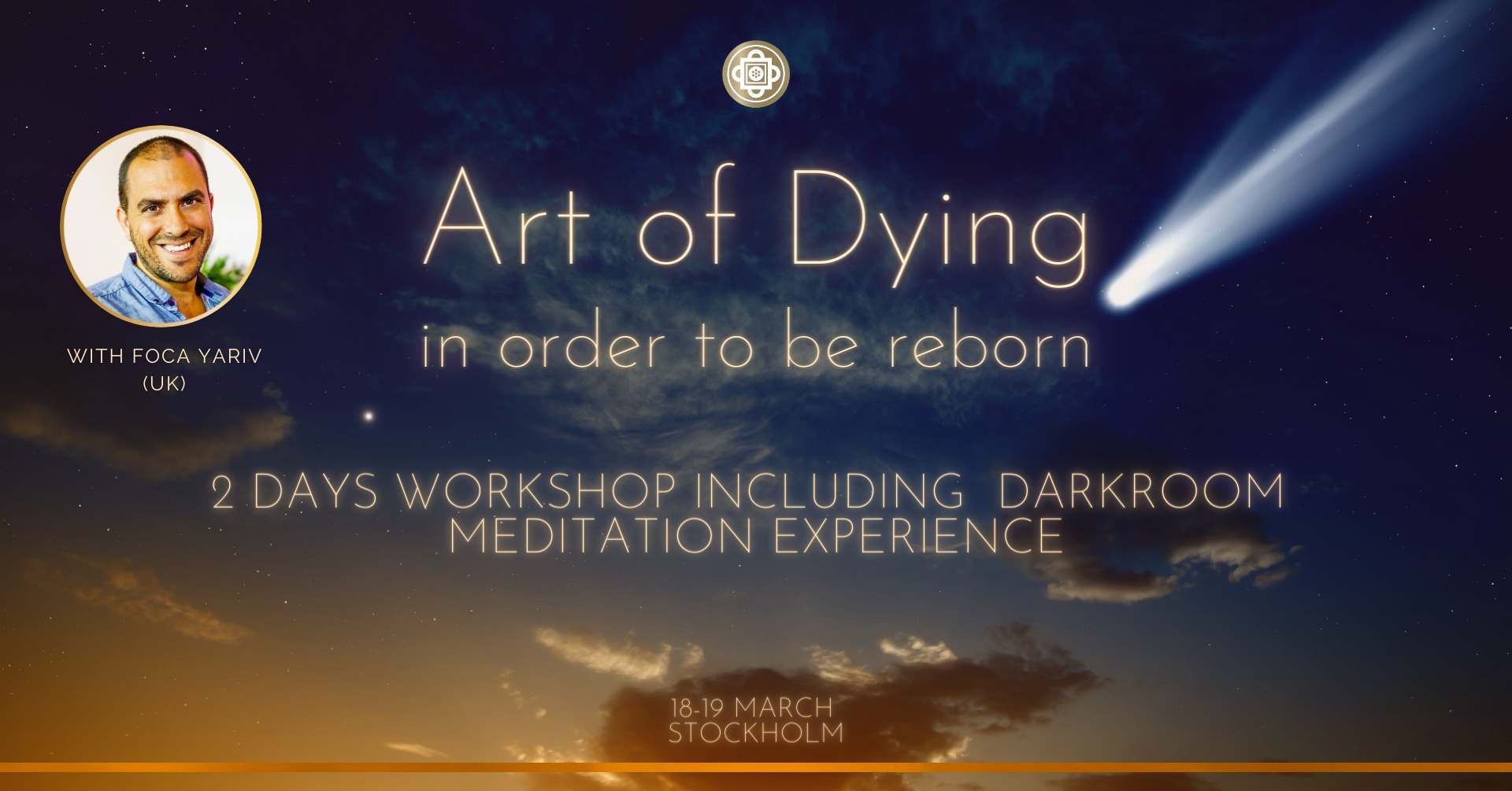 Art of Dying – in order to be reborn
– 2 days workshop with special guest teacher Foca Yariv (UK)
18-19th of March, Stockholm
In all ancient spiritual traditions of our planet the role of Death has played a mysterious and vital role in striving for spiritual accomplishments and inner realisations.
Why are we so fascinated by this apparent end of our existence? What is concealed in this powerful and inevitable event following any process of becoming?
According to the initiates, the moment of dying is a mysterious initiation into the secret of life.
This crucial transition into the next world is in fact a very privileged opportunity to realise the natural source of our existence and the purpose of our life.
What you will learn:
• Spiritual perspectives of death in different cultures and traditions
• The existential importance of contemplating death
• Realising that which is ephemeral and that which is eternal
• Understanding the parts of the being that reincarnate
• The value of near-death experience, and what can be learned from them
• Rites of passage. That life is infused with the death of the old to welcome the new
• How we can help those who are dying
• How to overcome the fear of death in order to live more fully!
• How we can prepare for our own inevitable death
• Practising the art of dying – which is the art of living, in daily life
• SPECIAL BONUS: Kaya Kalpa, guided meditation in full darkroom
• Meditations related to the topic
"An integral part of the process of awakening is embracing the mortality of our existence."
When you truly realise that your time in this life is limited, you will start to live it full of purpose and meaning.
You can ask yourself:
"If I were to die tomorrow, am I prepared?"
Perhaps some unfinished business, unexpressed love and gratitude, or incomplete reconciliation and forgiveness comes to mind…
Start to live every moment in its fullest. Reconcile now, express love now, follow your inspirations through to the end 
In the Art of Dying workshop you will be guided through deep contemplations such as this as well as diving into many different aspects of the topic of The Art of Dying.
'Die before you die and you shall become immortal.'
– Rumi
We look forward to see you in this important and life-changing event!
::::::::::::::::::::::::::::::::::::::::::::
PRACTICAL
Early bird until March 10th : 950 kr non-member / 850 kr Natha members
Regular price: 1100 kr non-member / 950 kr Natha members
Food can be ordered separately:
2 delicious vegan, gluten-free lunches on Saturday & Sunday & tea – 200kr in total
(add this price in your payment if you wish to have the lunch & cakes)
Food needs to be ordered latest 16th of march!
Payment can be done through
Swish : 1233397171
Bankgiro : 785-7162
Cash (in the reception beforehand)
Please sign up through this link :
https://forms.gle/pZWArBbP6DBKYyyq8
(please note that sign up is only valid together with the payment for your participation)
Note that we don't offer refund for this event 3 weeks prior to the event. The ticket is however impersonal and can be sold further.
Time:
Saturday: 10.30-18.00
Sunday: 10.00-17.30
Venue:
Natha Yoga Center
Narcissvägen 12, Älvsjö
Free parking on the street
Closest metro station: Fruängen
Closest busstation: Isbergavägen
::::::::::::::::::::::::::::::::::::::::::::
ABOUT THE TEACHER
Foca, born in Jerusalem, Israel, had a keen thirst for spiritual knowledge from early age. He started practising yoga and Tantra at the age of 17 (in 2001), and since then he has devoted himself to the spiritual journey. He has been teaching since 2009 in various places around the globe. Since 2011 he has been living in the UK, teaching yoga and tantra and offering various workshops on a wide range of topic from the purpose of life and the art of dying to workshops on masculinity, kama sutra and eroticism, he teaches in London and Cambridge and is guiding men's groups.