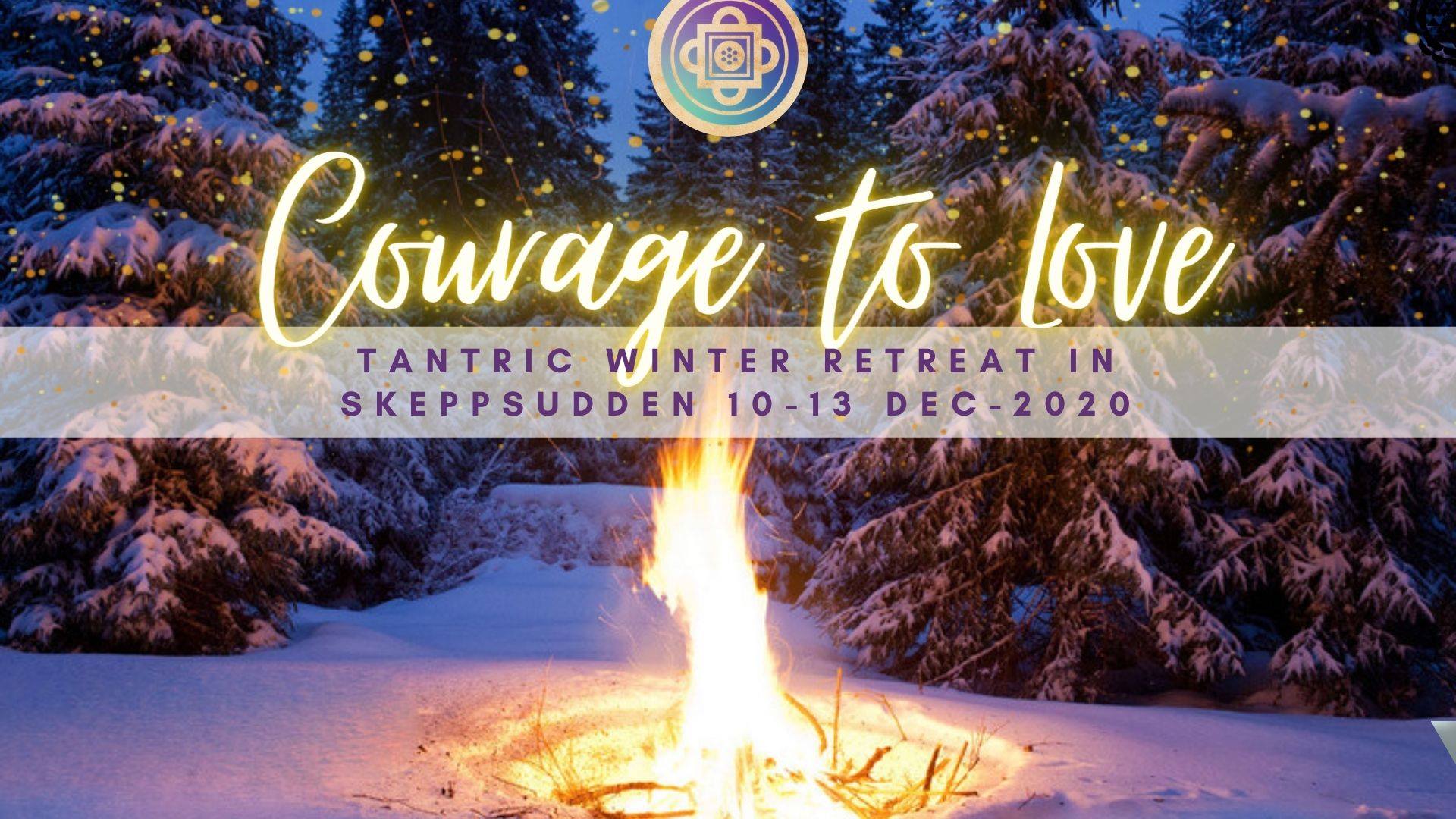 Courage to Love – Tantric Winter Retreat
After an AMAZING and TRANSFORMATIVE ECSTATIC summer retreat in Skeppsudden we will meet again in this stunning venue, this time as a winter wonderland, discovering and celebrating light and warmth in times of darkness and cold – come join us! 🙂
4 days of life-enriching journey into the world of Tantra. A unique opportunity to share, discover and deepen yourself into new insights and experiences. The retreat is guided by highly experienced teachers Aurora & Konrad in the amazing countryside facilities of Skeppsudden, with pristine nature, beautiful sauna for cold winterdays and peaceful surroundings.
The Courage to LOVE
Everyone who ever loved deeply knows that true love doesn't allow you to remain the same. Love has a deeply transforming power upon our entire being. We fear and run away from love because it asks this from us, to leave behind the old and open up to an adventure into the unknown. Often we tend to mistake love with the person or situation which triggered it, and in that moment we stop the experience of love and perceive love just as a concept in the mind.
The energy of love is described as an alchemical power that can, with the help of a pure and well-focused mind, turn any poison into nectar. In order to experience the transforming power of love we need to learn how to shift from thinking or mentalizing about love to deeply and fully EXPERIENCING IT. And the great news is that we do not need anything for this. Just the decision to OPEN.
Love makes a tensed body to relax and open up to pleasure.
Love makes a wounded heart to trust, heal and open again courageously despite any previous hurts.
Love makes the mind a vast and open space, peaceful and visionary.
Love helps us to build bridges and to experience union where there seemed to be only separation and difference.
Love brings meaning to our existence and gives purpose to everything we do.
Love is an energy we cannot force, but which we can learn to open to.
Many people fear love, and then passively close down. After these days, you will start to understand why keeping your heart open is the safest thing you can do.
Love, when it is experienced fully, allows that which seemed to be impossible to suddenly become possible.
Tantra and COURAGE
"Life shrinks or expands in proportion to ones courage" – Anais Nin
The tantric path has always highlighted the importance of courage. Tantra is a deeply transformative path that challenges the ego and our limited views, and in order to go beyond our fears we need the attitude of a hero. Most people do not really reflect on the way the presence or absence of courage affects their life. To live your life fully, you need to enter the heart of courage.
We need courage to be happy
We need courage to have beautiful relationships
We need courage to follow our path
We need courage to FEEL life
We need courage to heal
We need courage to be real and authentic
We need courage to transform
We need courage to be ecstatic
Courage is the real vaccine our world needs urgently. Anyone can become courageous.
During this retreat we will highlight the importance of courage in our life. In times like these, courage is becoming almost as important as the air we breath. Fears are closing so many hearts to love. Fears make us robotic, reactive, easily triggered and easily controlled by the outside. Every day we can see the effects of fear all around us, in so many ways. But when we learn to understand the role of fear, and the way it manifests in our life we can start to take actions in a different way. Courage is a muscle that we can train like any other.
We will explore the:
Courage to love
Courage to step into the unknown
Courage to be vulnerable
Courage to be really really happy
Courage to be ecstatic
Courage to forgive
Courage to play
Courage to keep your heart open
Courage to be intimate
Courage to accept feedback
Courage to overcome approval addiction
Courage to take responsibility for your life
Courage to accept the impermanence of life
Courage to keep the light of awareness ON
Courage as a key to spiritual growth
Our problem is almost never the fear itself, rather the way we relate to fear by avoiding, withdrawing, seeking control, worrying or falling victim to the mistaken belief that things will be okay only after we ́ve annihilated all the anxiety. Yes, fear can be uncomfortable and bewildering, and it can even thwart our most dearly held goals –but it doesn't have to be so.
This retreat will be a refreshing breeze of inspiration, an impuls towards real change, real transformation in your life – a vitamin boost for your soul. You will get an understanding on how to begin to live your life more open, and free and not be conditioned by fears. Because courage is not the absence of fear, but rather the assessment that something else is more important than fear… Your very life!
What is going to happen?
• Inspiring lectures based on tantric wisdom & up to date-science aiming to bring awareness and light to our experiences
• Experiences with creative and interactive exercises for awakening the senses, our energies & consciousness
• Daily meditations on different nuances of COURAGE
• Beneficial challenges that helps you to open to life
• Spontaneity games, plays and delights for bringing you to presence
• Sensual connections and courageous exploration of eros and intimacy
• Yoga
• Methods and practices to awaken courage and overcome fears and limitations
• Guidance into sacred heart meetings & special insights in the World of Tantra
• Cacao Ritual – Heart of Courage
• Quality Holiday Time: Sharing moments & togetherness in nature and the warm ambience of Skeppsudden
❤ Dive Into The Magic Play Of Sublime Eros:
Tantra is all about awakening. Awakening to life and to the beauty around us, awakening the senses and to the countless facets of joy and superior pleasures, awakening our consciousness in a dauntless lucid abandonment into any opportunity life is offering us, awakening to ourselves and to each other in natural heart presence. Throughout the retreat there will be space to eat, enjoy and laugh together; space to create trust, intimacy and loving connections; and there will be guidance into beautiful meetings & insights in EROS, LOVE & INTIMACY.
❤ A Life Awakening Experience Based On The Science Of Tantra:
In this retreat, we aim to create a perfect blend of holiday & transformative heart work. Thus Skeppsudden Awakening Experience is offering you a chance to share knowledge, to open up to the new, to embrace the old, to courageously meet life-transformations, to explore sensuality in the light of full awareness and to surrender to love´s breath-taking gifts of connecting to others and to your inner source of happiness.
❤ Surrender What You Are, To Find What You Could Become:
By consciously engaging in the perpetual forces of life, you will have the chance to enter the common energetic field of the community, which we will create together. It will allow you to engage in a playful and spontaneous way in the activities of the retreat, to open up to your inner resources and enhance your vital, sensual and energetic experience, as well as your subtle awareness and feeling of yourself.
************************************************************************
************************************************************************
♥ Should I bring my partner? Can I go alone?
The retreat is designed for both singles & couples. The entire program and all its activities are guided so you will meet and mingle with all the other participants. We aim to have an approximately equal number of each gender to create the optimal experience for everybody. As long as you are open to participating in the activities you will have a great time. All exercises are invitations and of course, nobody has to do anything they don't feel to do (which is also part of our consent form that needs to be signed upon arrival).
—-Self responsibility and boundaries—-
• We encourage 100% self-responsibility
• This retreat is meant for healthy adults (over 18 years) that wish to open up to beautiful transforming experiences and know how to set healthy boundaries
• The teachers and the team aim to do the utmost to create a loving safe space, but it is up to each and everyone to evaluate their own limitations and possibilities
• We will apply a special consent form upon arrival, with common sense indications regarding a harmonious integration for all participants during the retreat
• Everybody is setting their own inner and outer boundaries, which will be mutually respected. Others boundaries must be respected so that everyone can enjoy a beautiful experience
• There might be activities during the retreat, which suggest intimacy, nudity and sensuality, but these are in the same way optional and according to your personal inclinations. There will not be any explicit erotic interaction in the workshops
This event will be kept in a safe and harmonious environment
—-Covid Policy—-
• We will respect the rules and regulations set by the government, and if these will change during the time of the event we will adapt to this. There will not be social distancing at this event
• The participation list is limited to 40 persons
• In case any new mandatory rules will be imposed that prevent us from having the retreat you will be fully refunded or have the possibility to save your payment for a future event
• Everyone should come symptom-free, and if you would happen to get ill in a way that prevents you to participate before the retreat you may receive a full refund (contact the team as soon as this is the case)
• If you come from abroad and there are new regulations from your home country preventing you to attend, you will be able to keep the payment for another event or re-sell your ticket to someone else, however not recive a refund
************************************************************************
************************************************************************
************************************************************************
************************************************************************
If this inspires you and awakens a calling in your heart – you are mostly WELCOME to our Winter Retreat! It will be an open invitation for 4 days of spiritual holiday & heart work in a natural and relaxed unfolding of life's essence and fullness. We look forward to sharing and unveil the mysteries on how to live our life more juicy, fully and vibrant!
Tantra & Sacred Sensuality
The body is a temple offering us an enormous potential of energetic experiences. We can explore it consciously through a great variety of touch, energy games, sensorial experiences or just a simple lucid awareness upon the breathing. There are infinite ways to awaken through tantra when first you know the basic methodology – we may even call it 'human technology'.
Tantra & The Heart
At the heart of any spiritual celebration is always the spirit. It is the spiritual heart connection, which truly makes us feel connected. The body, its senses and magnificent aliveness of vibrant energies are offering us a great variety of possibilities to connect with each other and with ourselves, to offer fullfillment to each other and experience fullfillment in our own being, to offer loving presence and to experience love. Our Winter Retreat is an experience happening simultaneously inside and outside ourselves.
For whom is this retreat:
This retreat is open for anyone who wants to learn how to become more intimate and open and authentic in relating to others. Since we are focusing on intimacy as something that begins with YOU, with YOUR openness and willingness, it is very much an individual journey. The retreat is there for open for both singles and open minded couples.
This retreat is for people over 18.
************************************************************************
************************************************************************
DATES: 10-13TH OF DECEMBER
Arrival: Thursday 10th of Dec 15.00-17.00 Check in
PRACTICAL:
♥ Price for retreat (not including food and accomodation):
Super early bird – 2500 kr – until 29th oct
Middle bird – 2700 kr – until 15th nov
Late bird – 2900 kr -after 16th nov
(Natha students get 200 kr discount on early bird prices)
(Food & accomodation are to be paid separately to the owner Claes upon arrival – 2000kr/person for standard accommodation)
Sign up is done by paying the course fee (this is how you guarantee yourself a place)
Choose one of these options:
– Swish 123 339 71 71, write winter-retreat in the message
– PG 61 13 23-7, write your name and winter retreat in the message
– Cash at the reception in the yoga center
After you have done your payment, please write us an email to info@natha.se so that we can send you all the information that you need.
Refund policy: 40 days before the event you can recive 80% refund on the course fee. After that there are no refunds.
♥ Food & Accomodation:
Food and accommodation cost 2000kr and is to be paid separately upon arrival. The price includes standard accommodation in shared room with 4 or more persons. Private rooms and double rooms are avalible upon request. Please contact Claes to make these reservations.
Yummy delicious vegetarian food is included and prepared with a lot of love. If you have any dietary needs or intolerances please contact Claes for this.
When you sign up you will receive an info letter with these informations and contacts.
It is also possible to make extra reservations and stay longer just to relax in the lovely nature in Skeppsudden before or after the retreat.
**********************************************************
The venue and how to get there:
Skeppsuddens Kursgård
Järstad Östra Stenby
610 32 Vikbolandet
info@skeppsudden.com
Mobile nr to the owner (for questions regarding food, accomodation and transport): +4670 22 11 434
Skeppsudden is located 150 km from Stockholm, and you can find the directions here:
http://www.skeppsudden.com/hitta-hit.html
Usually we have a lot of participants from both Stockholm and Malmö that drive and arrange common travelling. You can write to us if you have a car or if you wish to have a ride and we will help to put you in contact with eachother.
We look forward to have you on this magical journey of love,
/Team Natha