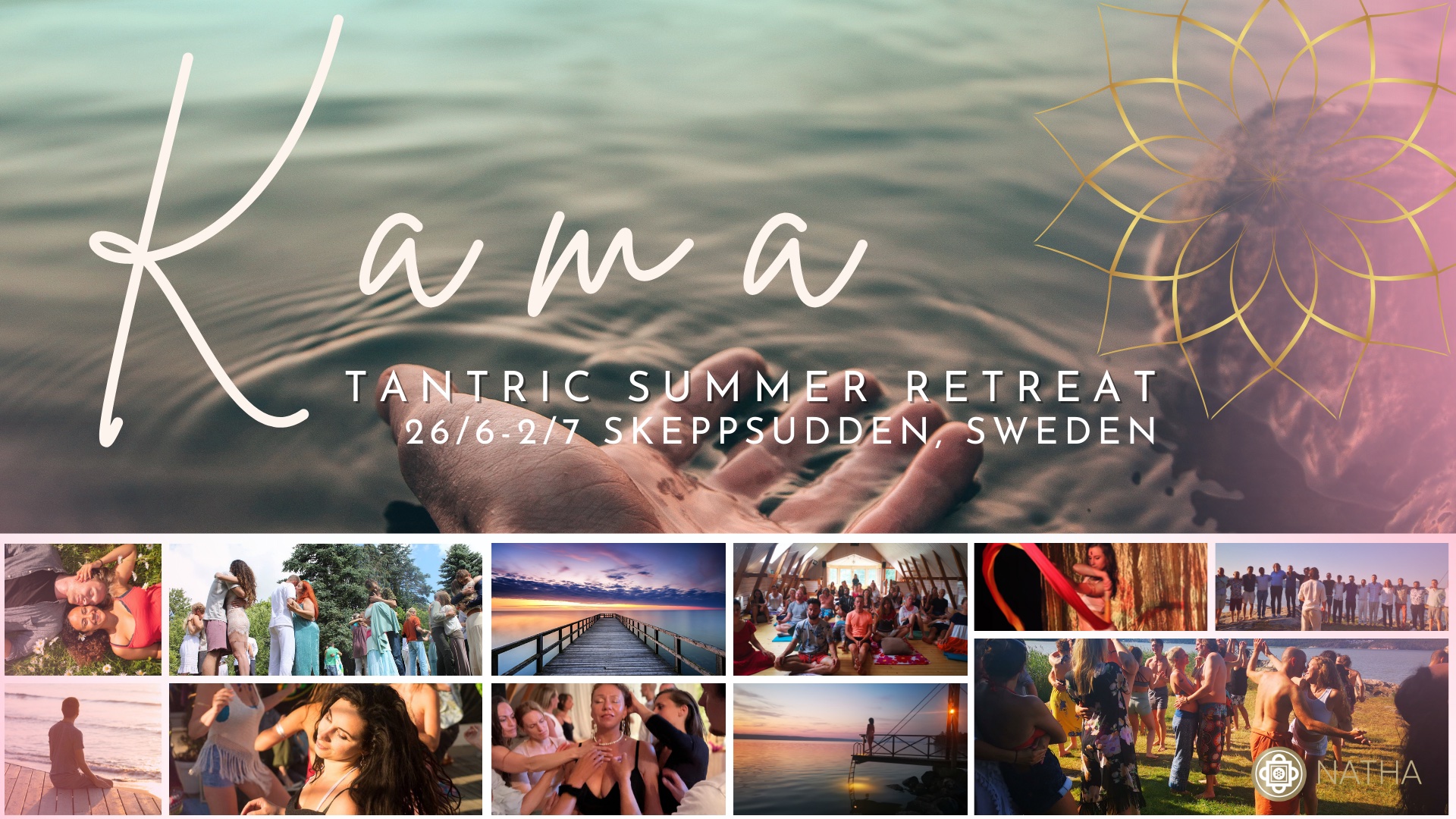 Kama – Tantric Summer Retreat
– One week intiatic journey of delight
26 June- 2nd of July, Skeppsudden Retreat
With Aurora Georgijevic & Morgan Arundel
– and magnificent team
Join us for the adventure of your life – a week of celebrative immersion into the joys of life in the lush Nordic forests. It will be a an unforgettable intiatic journey where ancient teachings of Tantra, Kama Sutra and Taoism are brought to life in the most meaningful way to awaken our hearts to wonder, beauty, love and delight. The retreat will be kept in Skeppsudden, one of the most beautiful retreat venues in Sweden located in a private forest area with beach, sauna and lots of magical spaces for enjoying the best of the Nordic summer. Life is too short to be lived half.
Come join us for an epic journey of revival and awakening!
Over the last years our retreats have sold out in very short time, the last years nearly half of places got taken within few days of publishing the event. This tells us something. That these reatreats manage to touch an essential yearning and longing in the heart of people. Because we all long for life, we all have a longing to be fully present and awake into this precious life we are given, and we suffer when we are not. This is our calling and mission – to support everyone who wishes to awaken, to find back to the joy of life that is interwoven into our heart.
Kama Summer Retreat is about self-knowledge and awakening. Knowing and discovering ourselves at a deeper level. Awakening to life and to the beauty around us, awakening the senses and to the countless facets of joy and superior pleasures, awakening our consciousness in a dauntless lucid abandonment into any opportunity life is offering us, awakening to ourselves and to each other in natural heart presence. Throughout the 7 days there will be space to meet heart to heart, enjoy and laugh together, space to create trust, intimacy and loving connections. There will be guidance into beautiful meetings & insights in the tantric teachings.
In this retreat we aim to create a perfect blend of holiday & heart work. The retreat offers a chance to share knowledge, to open up to the new, to embrace the old, to courageously meet life-transformations, to explore sensuality in the light of full awareness and to surrender to love's breath-taking gifts of connecting to others and to your inner source of happiness.
By consciously engaging in the perpetual forces of life, you will have the chance to enter the common energetic field of the community, which we will create together. It will allow you to engage in a playful and spontaneous way in the activities of the retreat, to open up to your inner resources and enhance your vital, sensual and energetic experience, as well as your subtle awareness and feeling of yourself. This is what most people that attended our retreats in the past felt as truly magical, the profound heart connections created in togetherness – and many shared it was the best days of their life!
Kama – the art of living
This summer retreat will playfully weave together the sacred teachings of tantra and the arts of Kama Sutra. Kama Sutra is often presented in a shallow way as some exotic lovemaking positions, while in fact these teachings carry instructions for a far greater wisdom – the 64 arts that bring more life into our lives!
We will learn to discover the power of desire, pleasure and beauty as keys to regeneration and awakening, moving consciously through it, beyond attachments or addiction, but into a free and innocent exploration that awakens the soul to the present moment.
Intiation into pure EROS
If you lack erotic appetite or you shut that part of yourself down, then it will also be difficult for you to muster much gusto and juicy enjoyment in the rest of your life.
If we are able to be fully present, connected, joyful, open, relaxed, loving, free and creative, if we are able to take initiative, to be empathic and self giving, to be free of shame and inhibitions and to make our hearts ecstatic in our erotic life – then we are that very same person in daily life.
Life becomes an open field of possibilities and everything we want it to be
In all the spiritual erotic teachings, pleasure itself has never been the goal of erotic experiences. Tantric, Taoist and Kama Sutra masters were instead attaining inner freedom, profound self knowledge and ecstatic union with the divine through mastership over the immense potential of the erotic energies.
During the retreat you will learn to connect to EROS as a force of life, that is liberating, uplifting, inspiring and enriching you! We will learn to discover our own inner erotic expression in a safe and gentle way, to find the heart of your erotic being, moving beyond old patterns, routines, shame, pains and instead find yourself reborn through the nourishing energies of sacred pure eros.
Sacred Art
Our retreats are always integrating many artistic elements, both in the teachings and workshops, and also encouraging participants to find their creative expression. Poetry, dance, sublime music, beautiful decorations that enchant the soul are interwoven into the entire program which create a special atmoshphere of unearthly wonders and delights. In tantra, art was always integrated as a tool that help to anchor the senses to the present moment and transport us to higher states of consciousness. This year we will let our bodies, senses and hearts to be touched by many different artistic elements in order to trigger states of elevation, alchemy and lucid awakening.
What will happen : 
– Inspiring lectures and direct guidance based on ancient tantric wisdom, aiming to bring awareness and light to our experiences
– Kama Sutra – the art of life
– Creative and interactive exercises for awakening the senses, our energies & consciousness
– REAL meetings – heart to heart in a sacred space of love and awareness
– Exercises that help us to open up to life, beauty, intimacy and happiness
– Daily meditation practice to become more present, lucid and awake
– Group study & sharing circles
– Inner energy work and morning yoga practice
– Couple Yoga
– Special insights in the tantric teachings & modern psychology
– Ecstatic dance & celebrating love
– Cacao Ceremony
– Quality Holiday Time: sharing moments & togetherness in nature's beauty and harmony in the warm ambience of Skeppsudden
– Purifying sauna and swims in the sea
The retreat will unfold as an integrated flow and will not follow a rigid scheme, therefore we reserve for sudden changes at any time in the program. The teachers will adapt the program to the needs of the group, yet hold a clear frame of direction and purpose
The event takes place in a relaxed atmosphere in the countryside, where you can unwind in the idyllic nature setting during the breaks.
Practical Details
Program of the retreat:
• Check in Monday 26th of June: 16.00 – 18.00
The program of the retreat begins around 18.00 on Monday 26th June and ends around 17.00 on 2nd of July.
Payments & Sign up:
SUPER EARLY BIRD (until 27th APRIL): 8300 SEK / 7900 SEK (Natha members)
EARLY BIRD (UNTIL 27TH MAY ): 8700 SEK / 8300 SEK (Natha members)
PRICE (AFTER 27TH MAY): 9200 SEK / 8600 SEK (Natha members)
Payment: Pay the full price or pay 3200 SEK as reservation fee.
– The remaining amount is payed latest the on the 27/5.
– Any cancellations after 27/5 will not be refunded.
– 500 SEK administration fee is not refunded no matter the cancellation date.
– Prices does not include transportation.
The retreat fee is transferred to Natha Yogacenter via Swish 123 395 95 90 or
PG 403 08 65-2
Must be marked with "KAMA" + YOUR NAME+EMAIL" for your final confirmation of your participation.
As we have LIMITED PLACES (and the last 4 retreats sold out very soon after publishing the event) available please make your payment as soon as possible to secure your place. Access is based on first appearances of the payments.
If you want to reserve a private or double room at an additional cost please contact info@skeppsudden.se
• Cancellation policy: After the payment has been done we will refund 95% until 2 months before, 75 % of the fee until 3 weeks before the event after that refund is not possible.
IMPORTANT IF YOU COME FIRST TIME! 
We wish to create the most loving and safe spaces for these retreats, and also a space for safely and courageously meet ones limits and open up for transformation and true leaps of consciousness.
Therefore we ask everyone who come first time to firsly apply for the retreat by sending us an email to stockholm@natha.se where we will guide you to fill in a questionnaire in order for you to feel if this is a retreat for you
Accommodation & food in Skeppsudden
• Your stay includes nice fresh-made vegetarian food (3 meals/day) and accommodation in cosy shared sleeping rooms in Skeppsudden. For accommodation in a single room with double bed there is an additional fee. You may get an invoice if you want.
• Please contact Skeppsudden directly if you have any special requirements concerning accommodation or food. If for example, you want to secure yourself in a single room or a double room for you and your lover/friend, or if you have food preferences for gluten-free, vegan or other wishes. NOTE – ONLY vegetarian food will be served, it is not possible to order food with meat.
Contact:
 Claes Nordenskjöld, info@skeppsudden.com,
Mobil: +4670 22 11 434
Adress: Skeppsuddens Kursgård, Järstad, Östra Stenby, 610 32 Vikbolandet
Getting there:
On the website of Skeppsudden, you find all relevant information about getting there: http://www.skeppsudden.com/hitta-hit.html Please note that you will get picked up at the local station if you choose to go by public transport.
Self responsibility and boundaries
• We encourage 100% self-responsibility
• This retreat is meant for healthy adults (over 18 years) that wish to open up to beautiful transforming experiences and know how to set healthy boundaries. If you suffer from serious mental illness, if you cannot manage your own boundaries, if you are easily getting too overwhelmed this retreat is not suitable. The retreat can be deeply healing but is not ment as a therapy retreat.
• The teachers and the team aim to do the utmost to create a loving safe space, but it is up to each and everyone to evaluate their own limitations and possibilities and know how to find harmonious participation
• Sensuality and nudity might appear, however participation to any of the parts of the retreat is ALWAYS OPTIONAL and there will not be any explicit erotic interaction in the workshops
• We will apply a special consent form upon arrival, with common sense indications regarding a harmonious integration for all participants during the retreat
• Others boundaries must be respected so that everyone can enjoy a beautiful experience
Should I bring my partner? Can I go alone?
The retreat is designed for both singles & open-minded couples. It is up to the couples to decide the frame of their participation. The entire program and all its activities are guided so that you will meet, mingle and interact with all the other participants. We aim to have an approximately equal number of men and women to create a balanced frame for everybody.
You can come as a single or as a couple. As long as you are open to participate in the common activities you will have a great time.