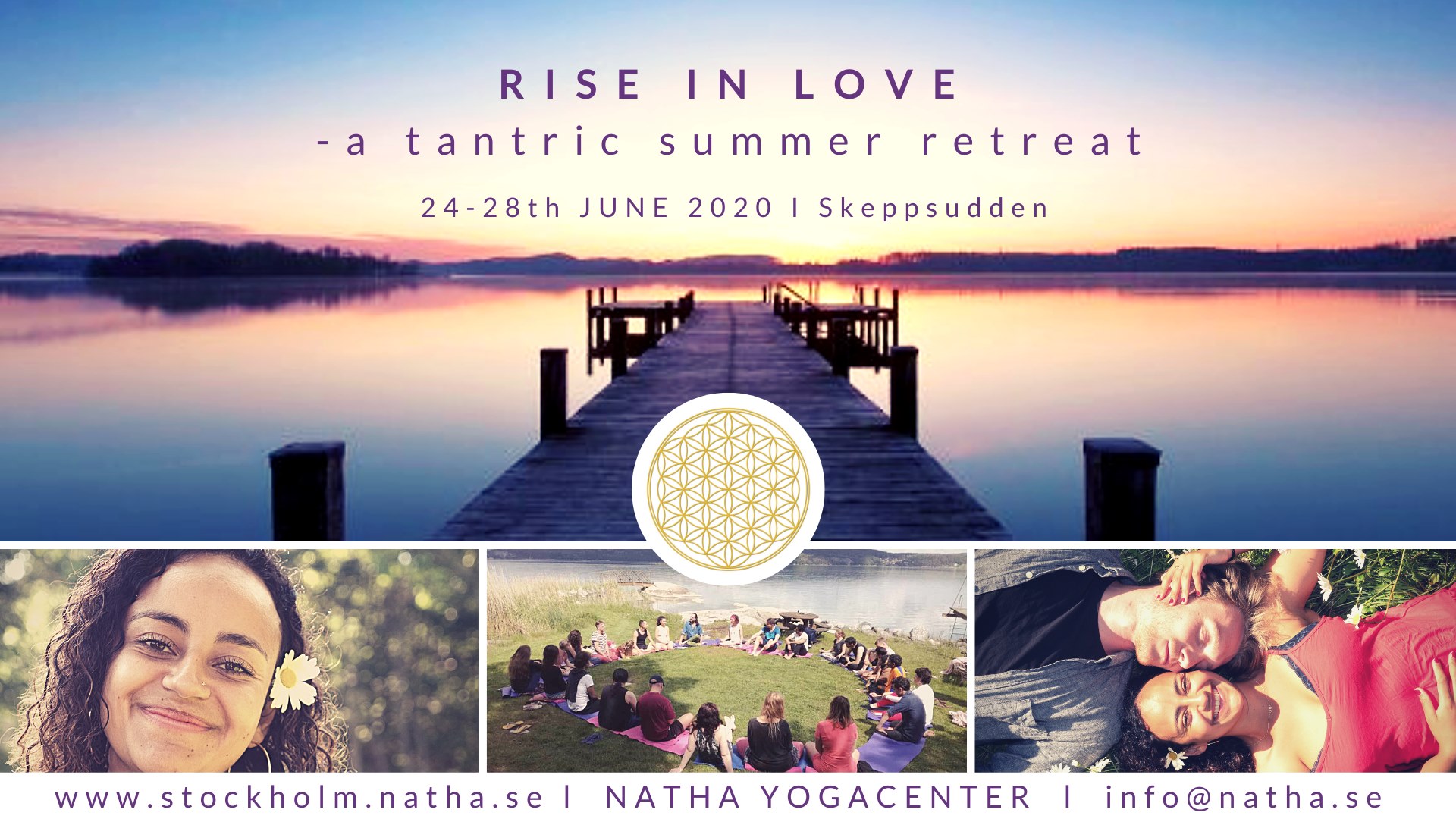 Rise in Love – Tantric Summer Celebration
Skeppsudden, Sweden
24 – 28th of June 2020
(Limited to 35 places due to Covid – read our Covid-Policy below)
with Aurora, Konrad and Love-Team
Welcome to our annual summer retreat in Skeppsudden! Year 2020 has brought many wild surprises :) , and whatever comes and whatever will be, we believe that love is what will make sense out of it all and help us to grow towards a deeper understanding, maturity, unity and trust. Our summer retreat is ON and will be dedicated this year to the secrets of LOVE.
The Art of Limitless Loving
Everyone has a limitless capacity to love.
Still most people experience only small parts of the great gifts that love has to offer us.
How would your life be, if you didn't need to wait for the conditions to be right for you to love? How would it be if you could love people, not because they are fulfilling some needs of yours or because they are nice towards you, but simply because there is an inner overflow of love inside that you cannot wait to share?
What if you could learn to love without reasons – without expectations, projections or agendas? What if you could wake up with love in your heart, to such magnitude it made you present, adventurous and trustful towards the new day, and each night go to bed with gratitude?
Falling in love is a gift we are given, a moment of grace.
Rising with love is an inner choice and commitment that turns us from passive consumers into active participants in the grandiose celebration of love.
This retreat will be a life changing journey through the mysteries of love, taking us beyond appearances into the simple and deeply fulfilling reality of love.
Love is for everyone, for every moment…
Being in love is an astonishing state. It's boundless, bewildering, irrational, transcendent and intensely emotional. It awakens the soul to the best parts of our existence. Falling in love is not a restricted extravagance either. We can fall in love repeatedly and in such a multitude of ways. We can wake up every day and decide to fall in love with each other, and with the life we have been given.
What if we took the time to fall in love with strangers? What if we made efforts to fall back in love with the people in our lives every chance we were given? What if we allowed places, smells, sites, sounds, faces, tastes, memories, experiences and everyday engagements of our emotions to be experienced through love?
There are so many hands you have never shaken, and names you've never learned. There are so many voices your ears wouldn't recognize, and eyes you've never really looked into. There are so many stories that go unheard. There are so many tears that go unseen, and healing embraces that never get the chance to perform their magic. We are faced with opportunities each day to open our hearts to every aspect of life worth falling madly in love with.
Tantra teaches that love is for everyone, every day. Every day is a magic celebration of love if we chose so. We don't need to wait for Mr or Ms Perfect, or for Valentine or anniversaries to show and express our love.
♥ ♥ ♥ This summer retreat will be dedicated to LOVE. To poetry, to caresses, to soul to soul meetings. To the present moment. You will be offered an initiation into 9 secret lessons of love that may help you to become and live like a legendary lover ♥ ♥ ♥
What will happen:
– Inspiring lectures and direct guidance based on ancient tantric wisdom, aiming to bring awareness and light to our experiences
– Creative and interactive exercises for awakening the senses, our energies & consciousness
– REAL meetings – heart to heart in a sacred space of love and awareness
– Sensual exercises that help us to open up to life, beauty, intimacy and happiness
– Daily meditation practice to become more present, lucid and awake
– Group study & sharing circles
– Inner energy work and morning yoga practice
– Couple Yoga – a revolutionary form of yoga practiced in pairs, enhancing attraction, communication and radiance
– Special insights in the tantric teachings, western psychology and taoism
– Ecstatic dance & celebrating love
– Cacao Ceremony
– Quality Holiday Time: sharing moments & togetherness in nature's beauty and harmony in the warm ambience of Skeppsudden
– Purifying sauna and swims in the sea
– The retreat will unfold as an integrated flow and will not follow a rigid scheme, therefore we reserve for sudden changes at any time in the program. The teachers will adapt the program to the needs of the group, yet hold a clear frame of direction and purpose
What you will learn:
– How to open your heart
– How to bring an overflow of love in your life by learning to savor the experiences of love
– How to surpass fear and stop running away from love by awakening the courage of the heart
– How to use the challenges as opportunities to expand your ability to love
– How love brings a deeper meaning, abundance and sense of fulfillment in your life
– How to develop a loving awareness that allows you to discover many unexpected nuances of love with an increasing clarity
– How to go from being needy, dependent and clingy to become radiant, bold and free in relationships
– How to heal and let go of old patterns and behavior from the past that serves us no longer
– How to go from mind centered living to a more heart based living
– How to improve and deepen your relationships by being genuinly open to feedback even if it's often uncomfortable
– How to transform passive attitudes into an integrated, actively loving approach in life
– How to change unrealistic expectations into true experiences of love
– How to let go of agendas and trust in the inherent guidance of your heart
– How to become a genuine giver
– How to keep your heart open in a frightening world
– How to cultivate and maintain harmonious, healthy, flourishing relationships
– How to become a legendary lover :)
– How to recognize love as a path of transformation and spiritual awakening and becoming a great student of the school of love
Practical Details
SIGN UP
Send us an email with your sign up request to stockholm@natha.se
PROGRAM
– Check-in Wednesday 24th June: 16.00 – 18.00
– The program of the retreat begins around 18.00 on Wednesday 24th June and ends around 17.00 on Sunday 28th June.
– The program will contain morning, afternoon and evening sessions and include time for resting, individual practice, walks in nature, bathing, using the sauna and enjoying the wonderful togetherness around the meals.
PRICES (RETREAT FEE ONLY)
– EARLY BIRDS (UNTIL 15th JUNE): 2775 / 2375 kr. (members)
– PRICE (UNTIL 24th JUNE): 3175 / 2775 kr. (members)
PAYMENT
– ACCOMMODATION & FOOD: 2500 kr. is paid CASH directly to Skeppsuddens Kursgård at arrival for food and accommodation.
– The retreat fee is transferred to Natha Yogacenter via swish 1233397171 or bankgiro 785-7162. It has to be CLEARLY MARKED WITH "SKEPPSUDDEN + YOUR NAME+EMAIL" as your final confirmation for your participation. After will receive a WELCOME LETTER which is also your confirmation, that we registered your payment (therefore please remember to write your email or send us an email with your sign up to stockholm@natha.se).
– As we have LIMITED PLACES available (35 due to covid regulations), please make your payment as soon as possible to secure your place. Access is based on first appearances of the payments.
– Cancellation policy: After the payment has been done we will refund 75 % of the fee until 1 month before the event after that refund is not possible.
ACCOMMODATION & FOOD
– Your stay includes nice fresh-made vegetarian food (3 meals/day) and accommodation in cosy shared sleeping rooms in Skeppsudden. For accommodation in a single room with double bed there is an additional fee. You may get an invoice if you want.
– Please contact Skeppsudden directly if you have any special requirements concerning accommodation or food. If for example, you want to secure yourself in a single room or a double room for you and your lover/spouse, or if you have food preferences for gluten-free, vegan or other wishes.
CONTACT
– Claes Nordenskjöld, info@skeppsudden.com, Mobil: +4670 22 11 434
– Adress: Skeppsuddens Kursgård, Järstad – Östra Stenby, 610 32 Vikbolandet
– Website: http://www.skeppsudden.com/
When you sign up we will also forward you the info letter from Skeppsudden where you get more detailed information and contact to make special requests. You are also very welcome to stay one day before and after the event just to enjoy the beautiful nature there.
GETTING THERE
– On the website of Skeppsudden, you find all relevant information about getting there: http://www.skeppsudden.com/hitta-hit.html Please note that you will get picked up at the local station if you choose to go by public transport
COVID POLICY
– We will respect the rules and regulations set by the government, and if these will change during the time of the event we will adapt to this
– The participation list is limited to 35 persons
– In case any new mandatory rules will be imposed that prevent us from having the retreat you will be fully refunded or have the possibility to save your payment for a future event
– Everyone should come symptom-free, and if you would happen to get ill before the retreat you can receive a full refund
– If you come from abroad and there are new regulations from your home country preventing you to attend, you will be able to keep the payment for another event or re-sell your ticket to someone else
SELF-RESPONSIBILITY & BOUNDARIES
– We encourage 100% self-responsibility
– This retreat is meant for healthy adults (over 18 years) that wish to open up to beautiful transforming experiences and know how to set healthy boundaries
– The teachers and the team aim to do the utmost to create a loving safe space, but it is up to each and everyone to evaluate their own limitations and possibilities
– Sensuality and nudity might appear, however participation to any of the parts of the retreat is ALWAYS OPTIONAL and there will not be any explicit erotic interaction in the workshops
– We will apply a special consent form upon arrival, with common sense indications regarding a harmonious integration for all participants during the retreat
– Others boundaries must be respected so that everyone can enjoy a beautiful experience
Should I bring my partner? Can I go alone?
The retreat is designed for both singles & open-minded couples. It is up to the couples to decide the frame of their participation. The entire program and all its activities are guided so that you will meet, mingle and interact with all the other participants. We aim to have an approximately equal number of men and women to create a balanced frame for everybody.
You can come as a single or as a couple. As long as you are open to participate in the common activities you will have a great time.
Our Tantric Summer Retreat in Skeppsudden
Tantra is all about awakening. Awakening to life, to the beauty and to the countless facets of joy and superior pleasures that surrounds us. Awakening our senses and consciousness in a dauntless lucid abandonment into any opportunity that life offers us. Awakening to ourselves and to each other in the natural presence of the heart .
Throughout the retreat there will be space to share wonderful vegetarian food, enjoy and laugh together; space to create trust, intimacy and romantic connections; and there will be guidance into beautiful meetings & insights into the tantric teachings.
Shedding myths
Love is surrounded by myths and confusion. They come from our upbringing, our culture, our previous experiences, hurts and instinctive driven patterns, often perpetuated by Hollywood films and pop-culture. In this way our perception of love is unconsciously formed, and prevent us from being present and experience love in its full splendor. To recognise and replace false ideas and limited views with genuine understanding through real tantric experiences may open us to love in new and more healthy ways. A few common myths:
– Love should be only and always pleasant
– There is a perfect lover out there who will make you happy forever
– I need your love to be happy
– Love hurts
– The myth of the doomed "unlucky lover" who always meets the "wrong one"
– Love is a fleeting emotion
– Love will come to you, just sit and wait
– Instant infatuation is a sign of a great love
– Jealousy and drama are just the symptoms of love
– Love and erotic attraction naturally fade over time
– Familiarity is a sign of deeper love
– Love is the result of a hormone reaction
– If you really loved me, you would…
– I can't live without you
– During this retreat we will playfully debunk and discuss some of these myths regarding love and see precisely why they many times become harmful traps for the in-attentive lover. By exploring them, and looking at the consequences they bring in our life and relationships, we will be able to rise above them and move into a greater and more real spirit of love.
– A Life Awakening Experience Based On The Science Of Tantra
– In this retreat, we aim to create a perfect blend of holiday & transformative heart work. It offers you a chance to share knowledge, to open up to the new, to embrace the old, to courageously meet life-transformations, to explore sensuality in the light of full awareness and to surrender to love´s breathtaking gifts of connecting to others and to your inner source of happiness.
About the teachers
Aurora Georgijevic: Aurora has practised yoga and tantra for the last 16 years and is a certified yoga and tantra teacher within AIFYM. A deep interest in health, awakening and personal development led her in an early stage of life to various spiritual teachings and further on to a university degree in Science of Public Health. Discovering tantra, she became deeply fascinated by the practical and all-embracing attitude of the tantric teachings, of applying and discovering this wisdom in daily life. Tantra helped her to discover that ecstasy is not reserved for special occasions, but can be unlocked in every aspect of life. Her teaching style is playful, honest&direct, full of wisdom, enthusiasm and deep love for the tantric tradition. For the last 8 years, Aurora has been the coordinator for a flourishing Yoga Centre and is currently teaching in Natha Yoga Centre in both Malmö & Stockholm. She is teaching courses in yoga, tantra, tantra for women and arranging various events, workshops, retreats and festivals. She is also the coordinator of Tantrafestival in Sweden. Her soul ambition in this life is to passionately spread the message of the transforming power of love and to make the wisdom teachings accessible to as many people as possible.
Konrad Swenninger: Film director from the Danish National Film School, Consultant between art- and business by Gefion Project Centre, History of science, Literature, Linguistics and Eastern European Studies at University of Gothenburg and University of Copenhagen. Accredited in the European Parliament as Human Rights advocate. Teacher in yoga, tantra and meditation under AIFYM, currently teaching in Gothenburg and Oslo. Konrad has a passion to understand the world through its underlying structure, with special interest in its artistic and mythological expressions. After twenty years abroad Konrad returned to Sweden in 2013 to build a yogic monastery in Vallda. Based in the esoteric tradition Färjås Yogaretreats develops regenerative small scale farming, herbal medicine, green therapy and local pilgrimages, while offering yoga classes and silence retreats. Konrad has studied esoteric yoga, tantra and meditation for more than twenty years, teaching since 2005. His teaching method is characterized by bringing sublime perspectives to everyday situations. His teachings invite the student to an ongoing inner search, and to actively validate the teachings by own experiences. Since coming back to Sweden, Konrad is engaged in revitalizing the old norse tradition into a living tantric practice.
Ivana Georgijevic: Is our morning goddess yoga teacher in our retreat. In her everyday schedule she is managing our yogacenter in Malmö. She also an incredible pleasant person to be around and a good shoulder to cry on, when life is unfair ♥ :)))))