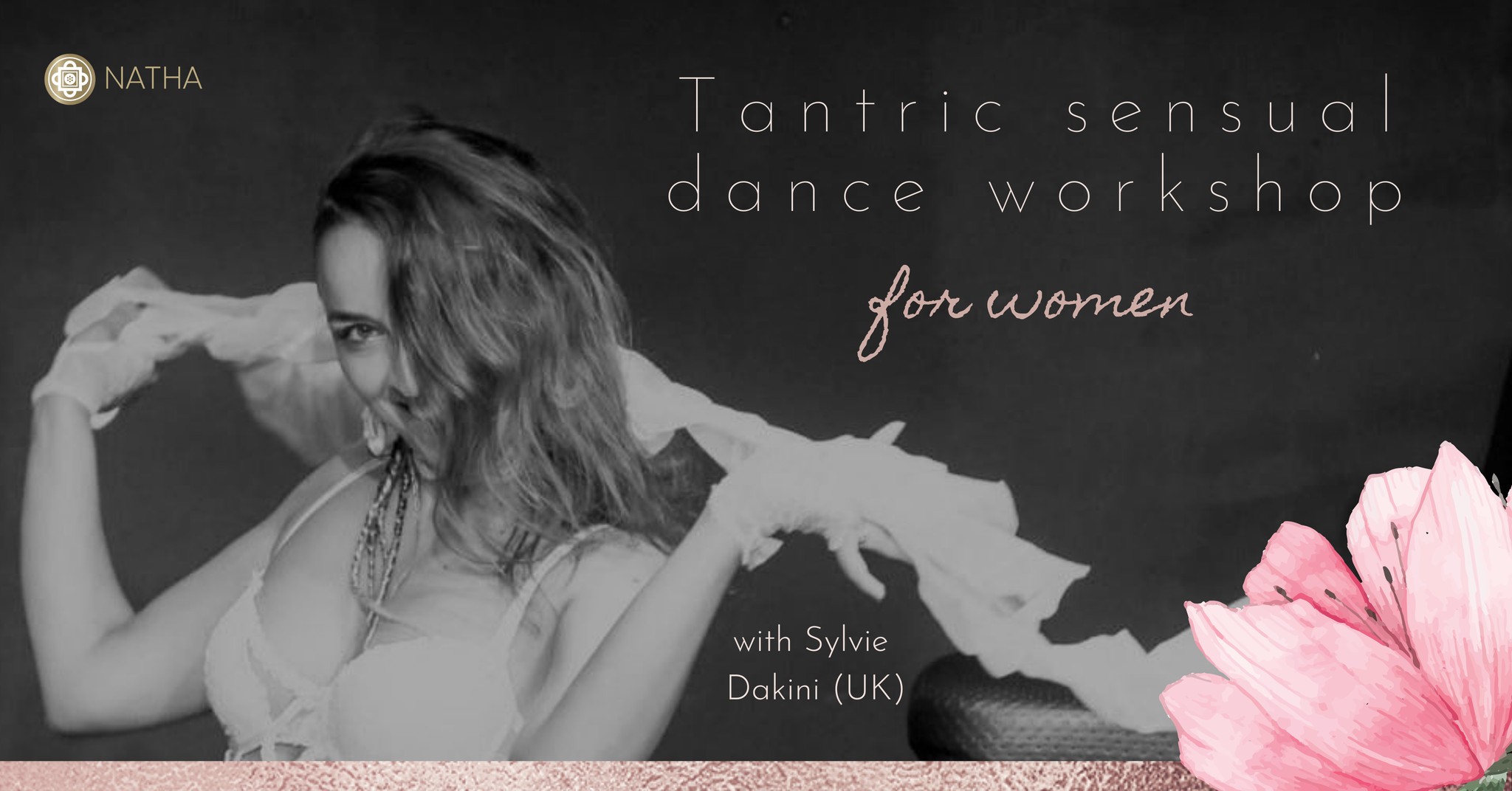 Tantric Dance for Women – with Sylvie Dakini (UK)
LIMITED PLACES!
We are happy to have Sylvie Dakini visiting Stockholm again after a full house in the autumn to share her wonderful passion for sensual dance!
It is a unique chance to learn how to connect to your body from this amazing woman with long experience of art and dance as a tool for spiritual awakening based on deep tantric knowledge transmitted with playfulness, sensuality and wisdom.
:::::::::::::::::::::::::::::::::::::::::::::
Are you longing to feel more alive and sensual? Do you want to reconnect with your body and emotions and to express more freely? What is the type of sensuality specific for you?
Then this is the refreshing workshop for you in which you can learn to awaken your sensuality through dance.
Why doing sensual dance?
• awakens feminine libido and sensual power that heals, energizes and empowers you
• staying fit – sensual dance is a healthy and harmonious way to dynamize the feminine body bringing tonus, strength and flexibility
• awakening our self-confidence – sensual dance teaches us to have a courageous and open vision towards life
• reconnecting to your feminine nature and learning how to express it
• activates and increases feelings of self-expression and pleasure
• mood booster – sensual dance is a lot of fun and releases many pleasure hormones!
Sensual dance is an artform meant for ALL women, at ANY age. It is a wonderful and powerful tool for reconnecting to your body, sensuality power and purpose. Since our bodies tell our deepest truths – if we can learn to listen to it, the potential for inner growth is enormous. Sensual dance is not about performance, is about finding pleasure, acceptance and fulfilment in our own bodies. It slows us down and helps us to unlock blockages and stagnated energies, especially in the pelvic area where women tend to accumulate many tensions. Dancing in this way helps us to reconnect to our bodies, to slow down, become more present and feel joyful and alive!
Sylvie Dakini shares about dance:
What I realised in time through my experience as a WOMAN and as a DANCER is that diving deeply into PURE EROTICISM always creates the conditions for me to have access to a huge power that inspires and touches the hearts of the people around me.
Did you ever think that PURITY, SENSUALITY and UPLIFTING ASPIRATION can go together very well?
Of course, there are certain KEYS that help us obtain these effects, keys which I want to share with you in this workshop!
:::::::::::::::::::::::::::::::::::::::
It includes:
– exercises of flexibility and general toning
– elements from different styles of dance through we can express different aspects of sensuality (for example: contemporary, twerking, chair dance)
– combos or mini-choreos with the movements we learned
– tips & tricks for becoming more magnetic while dancing on stage or in front of your beloved one
:::::::::::::::::::::::::::::::::::::::
When and where?
7th of March
18.00-21.30
Narcissvägen 12, Älvsjö Stockholm
(Near Fruängen station)
:::::::::::::::::::::::::::::::::::::::
Prices
450kr/350kr (Natha members)
Swish 1233397171 or Bankgiro 785-7162. Please mark it with Dance+name (ex Dance+Linnea)
After you have paid you can send us an email so we have your contact to stockholm@natha.se
Ticket is non-refundable but can be sold
(Limited places – last time it was sold out!)
About the instructor
Sylvie Dakini is a dancer, a yoga and tantra practitioner for more than 10 years. From all the forms of art she explored, dancing remained her biggest passion. The first steps on this path were made through ballet and modern dance and after, contemporary dance. Later she discovered oriental and indian dance; she coordonated for 2 years belly dance groups for all ages and took courses of traditional indian dance abroad. In 2017 she got her dancer diploma after making a contemporary dance. In the last few years she started learning also pole dance and this helped here manifest even more of her grace and femininity. Now she coordinates groups for women and teaches courses and workshops of sacred and sensual dance.
Full of life and enthusiasm, Sylvie radiates warmth and confidence together with a good practical sense and vivid intelligence. Combining the tantric teachings with her artistic nature she found a way to bring to surface her deepest emotions and sensuality in a very intense and also refined manner. This made her realize how dancing can be used as an instrument of self-knowledge and self-development, as something which helps us go beyond our mind and thus closer to our true divine nature.
"I believe that dance helps us bring to surface all our intense emotions and feelings that we have deep inside and we need to have the courage to express exactly as we are."