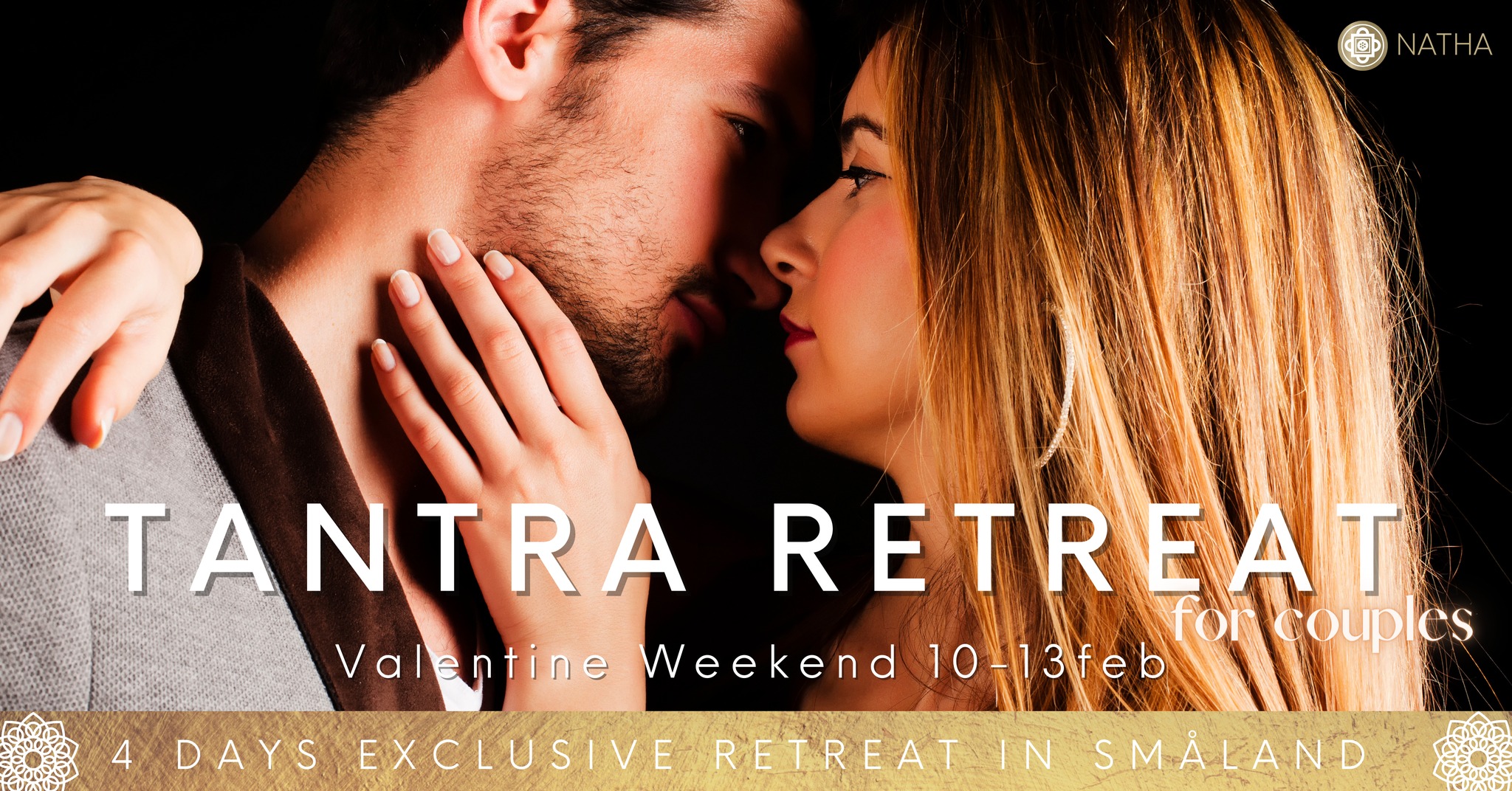 Valentine Tantra Retreat for Couples
Tantric Valentine Retreat for Couples
Exclusive retreat in a wonderful villa in Småland
(near Jönköping)
10-13th of February
Join us for a wonderful, heart awakening, sensual and intimate valentine long-weekend with your beloved in a safe and nourishing space!
We will learn and receive inspiring tools for spiritualizing our relationship that supports us to find deeper levels of trust, getting out of routine and familiarity, learning to maintain a spirit of passion and of discover your beloved again and again, in a new light…
A couple who learns to cultivate active love within their heart will be able to always benefit from its amazing effects. Learning new relationship and intimacy skills helps us to deepen love, shift from instinctual unconscious sexuality to sublime erotic experiences making both lovers more fulfilled and present. It helps us to cultivate intimacy without attachment, closeness without familiarity, polarity that empowers and doesn't limit us, refined passion that can be continuously renewed. The tantric teachings helps us to understand that a relationship grows old and flat only if we allow it.
In this retreat we will take you through a delicious journey of intimacy and deep, playful, sensual and romantic relating to your beloved.
You will learn about:
– Connection beyond communication – couple yoga & couple meditation
– Tools for amplifying polarity as a key to lasting attraction
– Tools that help you to rise above a conventional way of relating to deeper and more sacred relating
– Guided sensual practices
– Tantric practices of transfiguration, sensual massage, adoration & admiration
– Upgrade your relationship skills with tantric wisdom for a more fulfilling couple life
– Tools for deepening intimacy
– Juicy homework in your own private room including a unison couple lovemaking experience
Each couple will have their own room to practice in and some practices will also be done together with the rest of the group.
This is a wonderful opportunity to do something meaningful, sweet, intimate and deep together with your beloved, giving you an impulse of inspiration on how to cultivate a more conscious couple relationship that helps you both to grow and transform.
:::::::::::::::::::::::::::::::::::::::::::::::::::::::::::::::::::::::::::::
PRACTICAL
The retreat will be held in a wonderful elegantly renovated house in Småland, near Jönköping.
We have only room for 6 couples, so this will be an exclusive intimate retreat.
We will serve delicious vegetarian meals (let us know in case of allergy)
Time:
Thursday 10 feb
Check in 16.00-17.30
Ending Sunday 13feb 16.30
Price:
Early bird until 25th jan: 5600kr (4900kr for Natha members) – to be paid latest this date
After 25th jan: 5900kr (5200kr for Natha members)
The price is per person
Swish: 1233397171
Bankgiro: 785-7162
Mark your payment with "Valentine". To reserve a spot please pay the entire fee or a sign up fee of 1200 kr (the rest is to be paid before the event begins or before the early bird to benefit of this)
Cancelling 3 weeks before you can receive 90% of the fee back. After that the payment is non-refundable. In case of illness you may receive a voucher for future events minus administration fee, please contact the team.
Co travelling from Stockholm might be possible, please send us an email if you can offer space or need space in a car.
About the teachers:
Aurora Georgijevic & Tommy Miroglio
The event will be kept by Aurora and her beloved Tommy assisting throughout the practice. Aurora has a vast and indepth knowledge of the tantric teachings and transmits this in a playful, practical, poetic and heartful down to earth-way. Over the years she has assisted many couples to maintain the fire of love and passion in their relationships by integrating tantric principles new discoveries of up-to-date science.
Tommy and Aurora have as a couple been exploring and integrating the tantric teachings in their relationship. This made them discover new hights of intimacy, love and fulfillment which they are happy to share further to other couples that wishes to go deeper.
:::::::::::::::::::::::::::::::::::::::::::::::::::::::::::::::::::::::::::::::::::
Falling in love is divine. It awakens the soul to the best parts of our existence. We can fall in love repeatedly and in such a multitude of ways. We can wake up every day and decide to fall in love with each other, and with the life we have been given.
Falling in love comes by grace, like a gift, staying in love is a choice.