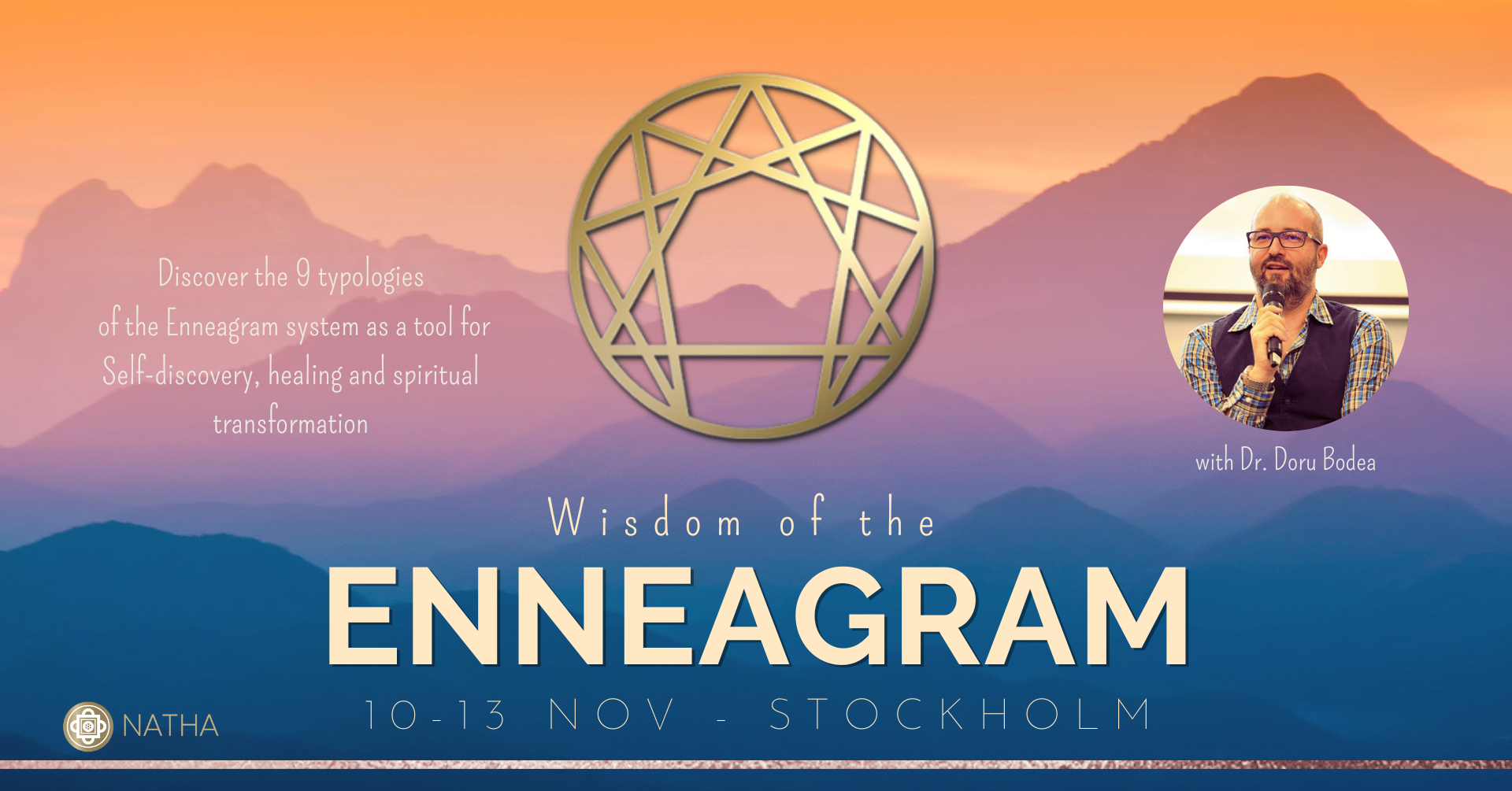 Wisdom of the Enneagram
A seminar of self-discovery, journeying through your own personality and all which lies beyond
10-13 November 2022, Älvsjö Sthlm
– With Doru Bodea (Germany)
::::::::::::::::::::::::::::::::::::::::::::::::::::::::::::::::::::::::::
The enneagram system is a profound spiritual tradition, one of the oldest, which helps us to discover our inner nature.
On the path of self-revelation we are invited to take a closer look, in order to discover our own essence, and the system of enneagram is supporting us to do precisely this.
Enneagram comes from the Greek words "ennea", which means nine, and "gramma" which means something written or drawn. This extraordinary and profound system of self-knowledge will support you to recognise your different mechanisms of thinking, feeling, and acting, learning to understand them and dissolve them gradually. It will support you to learn to recognise your own strengths and weaknesses and how to alchemise them into strengths and virtues. The enneagram gives us a solution model for all inner and outer conflicts, enabling us to better togetherness, intimacy and understanding in personal and professional relationships. This is how the highest inner potential of each, and every being is showing itself – which is unique and complete.
You will learn:
• Introduction to the Enneagram system, in order to be able to discover your own typology
• Presentation of all 9 typologies
• How to use the Enneagram system to understand your ego patterns, and also how to understand others
• Discover the map of your own journey of self-discovery, healing and transformation once discovering your typology
• How to harness the potentials of your being by assimilating your enneagram typology
• Harmonise love relationships and family relationships by deeper understanding of each other's personality patterns
• Using the Enneagram for your spiritual evolution
In a relaxed yet vibrantly inspiring atmosphere we will together discover the profound essence of the enneagram system. All 9 personality types are described in detail and are presented through experiential and multimedia examples. Each participant will encounter his/her own personality type together with the soul energy which works beyond it. This is how we open up for the individual beauty which is part of each and every one of us.
Through meditations for each personality type and creative exercises it becomes a spiritual journey which enlivens the soul and helps us to deal in a constructive way with the newly discovered knowledge.
The focus in this enneagram weekend is on the identifying of one's own behavioural patterns and the loving and creative overcoming of them, as we journey towards our biggest potential – our soul!
:::::::Practical:
• Language: The workshop will be held in English
• Location: Natha Yoga Center Stockholm
• Vegetarian glutenfree meals (for Saturday and Sunday) are included in the price & fika on Thursday and Friday evening
:::::::Program:
Thursday: 18.00-21.30 (incl. fika)
Friday: 18.00-22.00 (ink. fika)
Saturday 10.30-21.30 (incl lunch and dinner break)
Sunday 10.00-18.00 (incl lunch break)
:::::::Price
– Super early bird (until 10th of Oct): 2900 kr. (first 10 tickets)
– Early bird (until 1 Nov): 3400 kr.
– Regular price: 3800 kr.
Meals are incl. in the price
Natha student enrolled in 1 course receive 450 kr. discount
Natha student enrolled in 2 or more courses receive 650 kr. discount
Sign-ups at stockholm@natha.se
Please note that only once the fee is fully transferred in our bank account, we can ensure availability to a place in the seminar. A sign-up notification email is not enough alone.
Sign up by swish or bankgiro. After you have payed, please send us a notification through email to confirm.
Swish : 1233397171
Bankgiro : 785-7162
::::::::::::::::::::::::::::::::::::::::::::::::::::::::::::::::::::::::::::::
More info:
The enneagram system is one of the oldest known spiritual traditions. The enneagram system refers to nine fundamental ways in which human beings feel, think, and behave – in other words to nine human typologies.
Although often considered as just one of the psychological frameworks built to describe the human behaviour, the enneagram can offer a complete path for achieving self-realisation.
Built as a dynamic system which studies the connections between personality and spiritual transformation, the enneagram proves to be an extraordinary tool for discovering emotional- and thinking patterns which can hide from us the present moment and limit or even block the life force flowing through us.
The enneagram is a very dens system, with many layers of complexity, yet relatively easy to grasp and specially to put into practice. The seminar will first of all offer keys to identify your enneagram type together with its specific influences coming from other types. We will explore modalities to improve communication with other human beings and we will pay special attention to the specific interactions which appear in love relationships. Next to this, we will draw specific methods which can help us transcend our limitations and deepen our spiritual evolution.
:::::::Meet the teacher:
We are very delighted to have Dr. Phys. Doru Bodea (Ph.D.) with us this weekend revealing to us the profound knowledge and spiritual treasures of the Enneagram-system. Doru Bodea is currently living in Berlin and is a highly experienced teacher within many different traditions of yoga: Hatha Yoga, Tantra Yoga, Svara Yoga, Jnana Yoga, Karma Yoga, Laya yoga, Raja Yoga and many more.
We will during this workshop benefit from Doru Bodea's great expertise in the system of the Enneagram, and his warmth and wisdom as a teacher and workshop holder from his many years of offering workshops in congresses, fairs, forums and festivals of spirituality, throughout Europe.