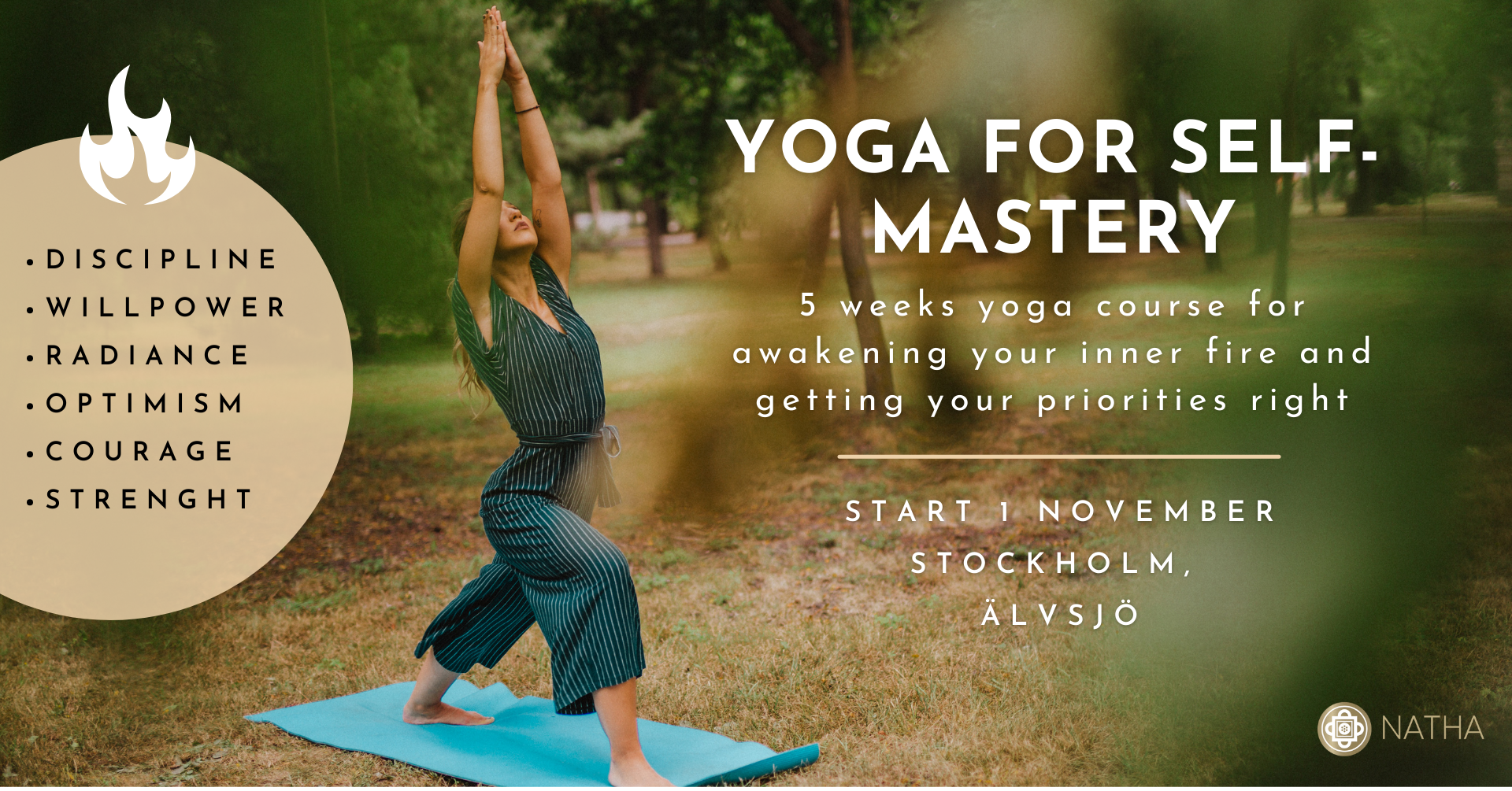 Yoga for self-mastery
– awaken your inner fire and get your priorities right
New dates!! 
Every Wednesday 24th of January to 21st of February
5 weeks yoga course in Älvsjö

Living a life in fulfilment, joy, courage, willpower, discipline & radiance
Deep inside we all long for fulfilment, that is, a life in which we discover our fulness and learn to live from it.
Still, many of us fail to live in such a way. Instead, we let the circumstances in which we happen to live dictate not only what we do, but also the scope of what we think that is possible for us.
In this situation we can benefit greatly from yogic wisdom. Yoga teaches us how to listen to our soul and to act according to its needs.
Thus, yoga is not only about physical postures, although they of course also have their importance. Yoga is a path for life.
Yoga is about awakening our consciousness and learning to be fully present in any situation. Only in this way can we respond properly to what comes to us in life. We learn to act from the deepest level of our being at the same time as we are aware of the depth of the beings with whom we interact.
At its deepest level, yoga is about opening our eyes to what is beyond our perception, to become aware of source from which we all spring forth.
Fulfilment in life is an art that everyone can learn and become better at through practice.
This 5-week transformational course, will take you deep into the art of mastering your life in a fulfilling way, awakening joy, courage, willpower, discipline, happiness and radiance week by week, providing more tools and understanding based on yogic wisdom teachings on the art of living.
You will learn and discover:
– The significance of an awakened consciousness for a fulfilling life
– The way in which we become restricted by habitual ways of thinking and acting
– How to become more aware and present in life
– The necessity of self-discipline for realising our full potential
– The role of meaningful and detached action for a sense of fulfilment
– How to become better at acting in such a way
– The importance of courage and how to become more courageous
– The role of spiritual practice for being able to live life fully
– Why fulfilment is dependent on transformation
– What will happen during the course
– Weekly inspiring lectures and guidance based on yogic wisdom
– Simple but efficient yoga practice (no previous experience of yoga is needed)
– Weekly meditations on the qualities that we need/wish to develop
– A safe space in which to ponder upon the most important aspects of your life
– Weekly homework to transform theory into practice in your own life
– Group study & sharing
– Private Telegram group for those who wish to connect more and where the teacher will share homework, inspiring links and music
Practical info & sign up
Time & Day:
Wednesdays 18.00-20.00
24th January – 21st February
Price: 1150 kr
(Students with CSN + active Natha members receive 200 kr discount)
Swish 1233397171
Bankgiro: 785-7162.
Mark your payment with "Mastering life".
To reserve a spot please pay a sign-up fee of 350 kr. (The rest is to be paid before the course begins, latest 25.10.2023). After that send us an email to stockholm@natha.se
We have a limited amount of places.
Venue:
Natha Yoga Center
Narcissvägen 12 Älvsjö, Stockholm
(few minutes walk from Fruängen tunnelbana station)
Other info:
This course is meant for adults over 18 years.
This course is not meant as a replacement of professional therapy when this is needed.
No exercise is obligatory.
We offer no refund, but you are welcome to sell your place for the course to someone else (only before the course have started)
Missed classes will not be refunded
Meet your teacher:
Henrik Bruun
Henrik Bruun is a passionate and dynamic teacher who has devoted his life to Yoga since more than fifteen years. He holds a PhD in Human Ecology and has many years of experience from both scientific research and business management. Teaching is a true calling for Henrik. Before receiving his certification as a yoga teacher, he worked as a teaching researcher at several universities. Henrik is committed to helping people integrate into their lives the wisdom and practices of the ancient yoga tradition, and he is known for clarity, sincerity and commitment in his teaching. He is convinced that spirituality is just as important for modern men and women as it was for the ancients and that true fulfilment in life is possible only if we become aware of the deeper dimensions of ourselves, others and the universe.