– by the end of this day I will gain a much deeper understanding of this saying.

The 4th day begins with a slight cover of clouds over our little Garden of Eden. This day is dedicated to the principles of spiritual healing. The looming clouds seem to impel a more introspective attitude with the attention oriented inwards. Quite a symbolic setting to the theme of the day which implies just that.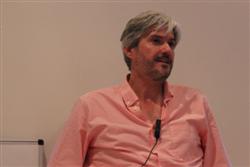 After breakfast we have a real treat – Advaita Stoian, the coordinating teacher of Natha, has joined us over the night to guide a series of lectures regarding Spiritual Healing as the key-note speaker of the retreat. He starts his lecture with a paradigm shattering statement – that disease is not a problem but in fact is a part of a solution.
The diseases we have are shadows of disharmonies within us. The shadow gives us information about its source -in the same way, by understanding our illness we better understand ourselves and what we have to learn. Therefore an illness is actually a lesson to be learnt, a teacher and a part of the healing process. From this perspective, to run away from the disease is like a child who tries to avoid school or even destroys the school. These lessons that illness teaches us are about wrong and disharmonious attitudes that we have.
A mistake that people make is that we focus on the disease, on the disharmony, and we try to fight it. One cannot fight disharmony and get away with it. Instead we should focus on the sate of harmony, fulfillment and happiness within us. Advaita presented several exercises how we can achieve jus that, and in the interview bellow you can find one of these methods:
http://www.youtube.com/watch?v=dN6VLyWSfu8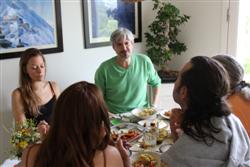 I practiced this method and was amazed of how natural this state of balance and happiness was to me. likewise was amazed by how little attention I was normally paying to it while devoting most of my attention to small details such as tasks that needed to be done, fleeting thoughts and other elements which now appear as nothing more than tiny waves on a sea of peace and joy.
The sun came out between the clouds while teachers Emanuel and Minodora guided a workshop of healing through the Heart – how we can connect to our hearts which are the source of balance and harmony in our being.
The sun beams played with some distant rain, forming a huge rainbow, as evening slowly descended.
It is a joy to discover that beyond the habits that form our mind and character and which generate agitation and suffering, there always remains undisturbed our deeply harmonious nature, like the Sun beyond the clouds.
Now night is upon us and the house is a sleep. I reflect with gratitude upon all the events of my life, the lessons they have given me, the good choices I have made and the mistakes as well – each of them mysteriously bringing me closer back to my Self, back to Home.