– it is something else, mysterious. Everybody around are smiling so happily – staff, teachers and participants; the whole place has transformed so much since I saw it last – the dining hall transformed into a cozy lounge, every room decorated especially for the retreat and the camping area in the yard filled with around 20 tents. Yet – this is still not it. Then I realize what it is that I feel so magical – it's the heart which is so present – reflecting from the smiles of all the people, manifested in all the loving actions that were made to prepare Paradise for the event and the way the staff and teachers receive the participants.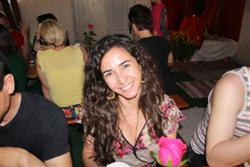 The program begins with an opening meditation and a presentation of the retreat program. This retreat is dedicated to the awakening of the Spiritual Heart. This is done through a series of group activities, workshops and lectures. We can chose one of 2 paths of awakening the heart which are offered in the camp – awakening the heart through creativity and awakening the heart through touch. There will also be plenty of activities common to all together. Ulrik Lyshoj presents the Heart of Touch activities which he will guide and Ines Honfi presents the activities of the Heart of Creativity which she will guide.
Then Emanuel Langhoff presents an amazing presentation about the ways of the heart. This is not done as a lecture but more as a poem for the soul. Some elements from that talk are also presented in the video interview below:
http://www.youtube.com/watch?v=pQDKBwImC9Y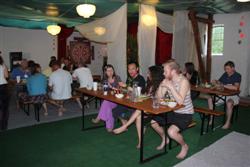 The dinner is all so cozy, sharing food and intimate conversation around candles, on tables, couches and cushions with light music in the background. Even though most of the people in the retreat have not met each other before, it already feels like a loving family.
After dinner we gather for a workshop of opening the heart. As a part of it we sit in a sharing circle and each person shares their feelings and reasons for being here. People really speak from their hearts and it is so touching. Some chose to express themselves through song or dance. A few words especially stay with me.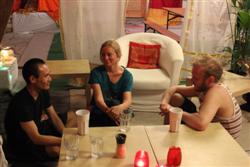 Soren, a tall gentle man, says ''I am here with an open heart and I already feel a lot of compassion and love in the people here.''
Richard, who come to think of it is as tall as Soren (did I come to a giant retreat?) says ''Every time I come to Paradise for a retreat I get something which revolutionizes my life.''
A beautiful woman called Catia shares ''I am here because I feel that I want to love and not just to be loved, and I believe that I can Learn that here''.
And a Young woman named Bonnie mentions with a smile ''it's so wonderful to have a retreat which helps us to put into practice the great theoretical teachings which are given in this school.''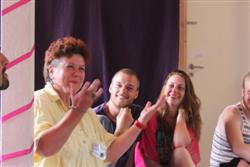 Afterwards we make an exercise where we move in the space, being guided by our hearts, learning how to connect to the others from heart to heart.
Last call in the dining hall for a late desert and tea. Some people take up instruments and play music. One by one people go to their beds or tents. And silence finally descends on Paradise Retreat Center, in waiting for another day of loving.